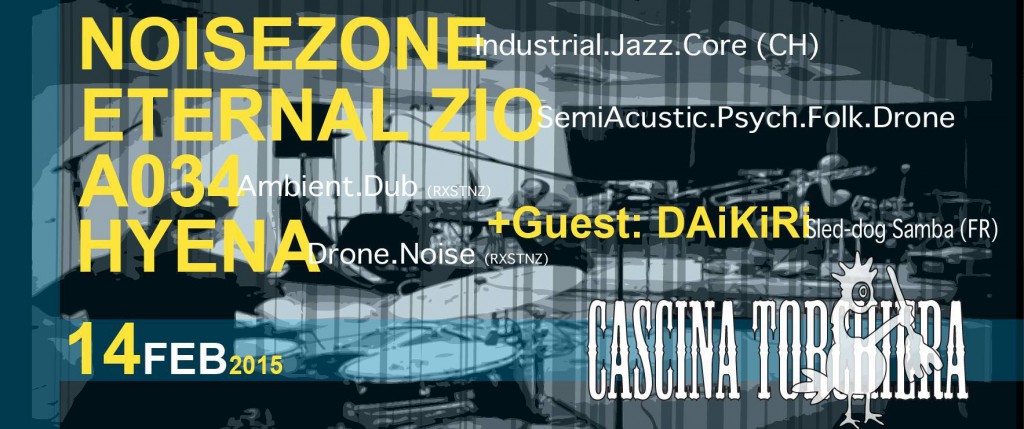 —-NOISE ZONE—-
Artur Smolyn: Electronics, Sebastian Smolyn: Electronic Trombone, Daniel Buess: Drums/Electronics
NoiseZone, feat. the Basel based polish musicians Artur and Sebastian Smolyn and the drummer Daniel Buess is a very straight forward intuitive and impulsive free improv-project. Reduced to the spontaneous musical language of the three musicians, the result is a powerful "tour de force" of high explosive energy. Their music is a dedication to pure life; the performance, sometimes violent, always with the vibe of a secret ritual, always seems to explore and break several laws. NoiseZone dedicates itself to an extreme, uncompromising presentation.
https://www.youtube.com/watch?x-yt-ts=1422579428&x-yt-cl=85114404&v=HniTCIoFvFw#t=250
—-ETERNAL ZIO—-
"They play some heavy shit, no jokes. They are the creme de la creme from this freak place based in Italy called Ca' Blasè where our heroes not only live in it but they also run some secret activities against the government, the people and the world".
http://eternalzio.bandcamp.com/
http://boringmachines.bandcamp.com/album/eternal-zio-s-t-2
https://www.facebook.com/EternalZio/info?tab=page_info
—-A034—-
Mutant Electronic-Music Producer from 1995.
Vynils and cds on indie italian labels as Bar La Muerte, Hydrophonic, Qirex, Afe, Rxstnz and some other borderline labels like Full Volume Agency (Japan), BlackBean+Placenta (Usa), Monkey Tool (Fra).
Member/Collaborator of collective artistic projects as: Nuke Satori, Sixfigurenigga, Lava, Acid Drops, V.a.l.i.s, No Human No Cry. cofounder of RXSTNZ label\collective
www.a034.it
https://www.facebook.com/pages/A034/155855744469131?sk=info&tab=page_info
—-HYENA—-
started in early 2000's as Giona Vinti solo project, a mixture of hardcore techno , jungle , alternative hip hop and dark ambient . came out as a strange industrial breakcore act. co-founder of RXSTNZ label\collective
https://www.facebook.com/pages/Hyena/197732912375?fref=ts
—DAiKiRi—
Duo Bass/Drums/Voice
Sled-dog Samba
As two barking dogs, Daikiri's live set gives to the audience an intense and sparkling experience. Their « Sled-dog samba » will both cure your deafness and make you blind. It goes fast but last long in your mind.